As you may be aware, in addition to our catalogue collections, we have collaborated with numerous individuals and businesses over the years to create custom textiles. In this process, our design team works closely with interior designers, game lodges, hotels, restaurants, and others to develop bespoke textiles and products that meet their specific needs and preferences.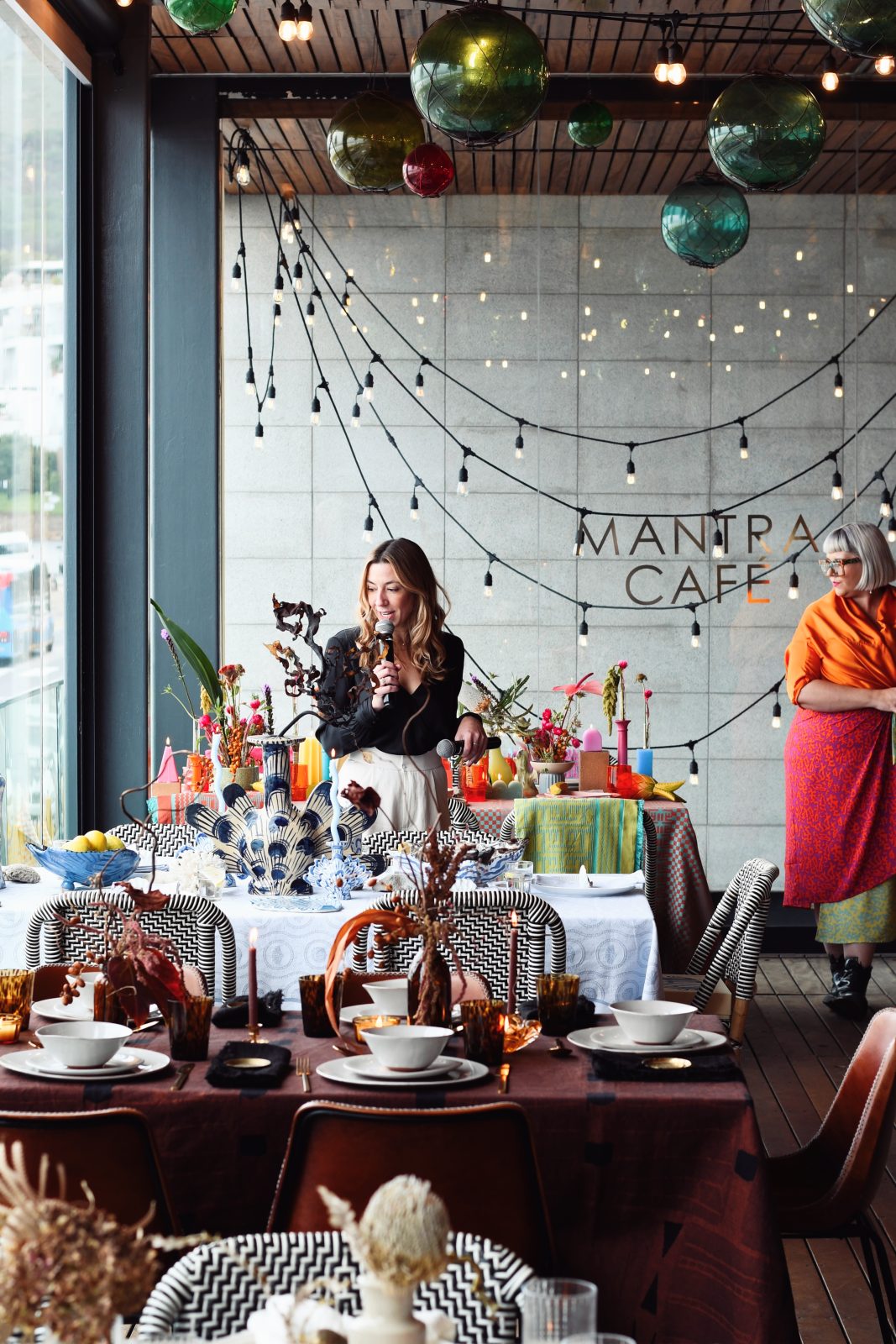 On the 11th May we hosted for the first time, The Textile Experience by African Jacquard at the stunning Mantra Cafe in Camps Bay. We presented to a room full of industry experts, demonstrating how we as a textile design house can bring their concepts to life, and were met with such awe and appreciation from our guests for our skills and textile development.
During the event, Andries Kotze, our Master Weaver, took our guests on a journey through the history of weaving. Christine, the founder of African Jacquard, presented some of her favorite projects and developments, highlighting the intricate patterns and textures that make our textiles unique. Our approach to custom design ensures that every piece we create is truly one-of-a-kind and reflects the individual style of each customer.
We were honoured to be joined by four well known Cape Town stylists / influencers, who each styled and presented a unique table setting featuring our textiles.
Simone (@yellow.papaya) added an abundance of colour to her table setting with our Penta tablecloth and napkins.
From the bright tones, to the colourful shapes and lush ambience, this setup is all about creating a tropical atmosphere.
Louise (@lovingthelookbabe) added a touch of rust to her table setting with our limited Edition Metallic Bogolan tablecloth and custom-dyed napkins from our Bogolan linen fabric. From the earthy tones to the rich, rustic hues, this setup is all about creating a cozy and inviting atmosphere.
For her second table, she opted for a unique look by using one of our bed throws as a tablecloth.
Our Bogolan throw and custom-made napkins made from the same fabric adds a monochromatic touch to the setting. With muted tones, dried flowers, and a bush atmosphere, this setup creates a curated African Bush Safari vibe for a special luncheon at home.
@geradewet has given us some serious table setting inspiration with our Kuba tablecloth and Kuba hand towels used as placemats! Who knew hand towels could double as such stylish placemats? She paired it with napkins from our Classic range adding a soft and feminine touch to the setup with pastel and muted hues.
@lucie.in.wonderlands, styled the soon-to-be-launched fabric woven by us for her brand @shellange in collaboration with @studio.sanet. Inspired by natural beauty. From the bluey hues to the fresh catch of the day, everything about this table screams coastal flair!