African Jacquard, the home of innovative and inspiring French / African textiles has been designing, weaving, and producing a diverse range of top-quality homeware textiles, in the heart of Cape Town, since 2014.
Founded in 2014 by French born owner and Creative Director, Christine Daron, African Jacquard marries her heritage of luxury French home linens woven in the style of Jacquard, in the warm colours of Africa.
This story began when Christine travelled to Africa 35 years ago. Now residing in South Africa, and having travelled all over the Continent to countries such as Gabon, Congo, Angola, and Burkina Faso, her first-hand experience in these different design cultures is apparent in the patterns and designs created at African Jacquard.
Using the traditional French Jacquard technique, and natural fibers such as French Linen and African Cotton, we combine a variety of weaving styles, such as our signature waffle weave, together with traditional African geometric designs to develop unique and extraordinary textiles. 
Our ethos is to produce locally woven, top quality homeware products, and our mission is to bring delight to the world through the quality and grandeur of our textiles.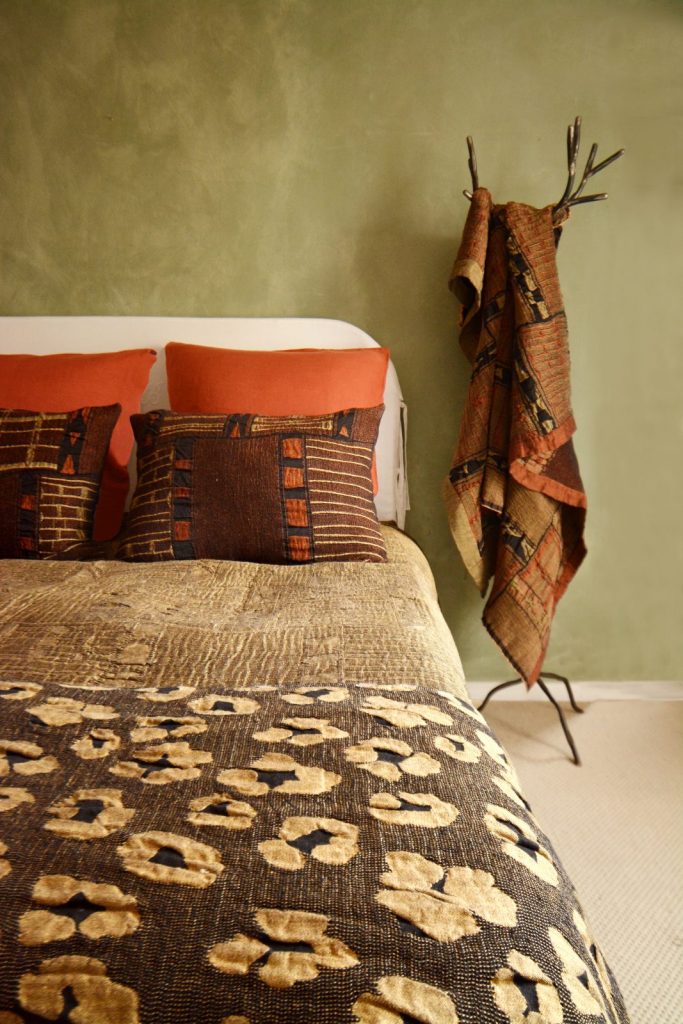 Our collections are inspired by the cultures, colours and landscapes throughout Africa, such as wildlife spoor prints and the Ndebele house patterns of South Africa.
Our popular Bogolan Collection, woven with 100% French linen is inspired by the designs found in the Bogolan Mud Cloth of Mali in West Africa. One of Africa's most unique textiles; it is a handwoven cotton fabric, traditionally dyed with fermented mud, and hand painted with West African designs and symbols.
Our bold & colourful Kuba Collction, woven with 100% African Cotton is inspired by the Kuba designs found in the Congolese Raffia fabric which is a handwoven cloth traditionally made from Raffia palm trees.
Our latest Metallic Collection, is inspired by the alluring colours of precious metals and African wildlife.
From luxurious bed throws and bedspreads to long lasting table linen and towels, our collections are guaranteed to evoke appreciation for authenticity in quality and design.
Along with our own collection of homeware textiles we offer opportunities for customization. Explore and be inspired by our luxurious collections and allow us to weave your designs or corporate identity, making the memory of your establishment last forever.
Our fabrics are woven using the Jacquard technique. This traditional French technique of weaving combines a variety of weaving styles into one fabric, offering versatility in weave architecture.
We are  therefore  able to weave intricate designs, images, writing and logos resulting in a superior textile where the design is apparent on both side of the fabric, with the back being just as appealing as the front.
A Jacquard loom weaves durable fabric, and because the  pattern is woven into the fabric, the colors won't fade as much as printed designs.
To date we have worked with prestigious wine farms, restaurants, boutique hotels and lodges around the world such as Babylonstoren, Vignamaggio, Marble, The Silo, Belmont Mount Nelson, Angama Mara, Congo Conservation Company, Spice Route, Sabi Sabi, Zeitz Mocaa, La Motte, andBeyond, Victoria Falls Hotel and many more.
The Jacquard loom was invented in Lyon, France in the early 1800s, by Joseph-Marie Jacquard. During this time, weaving patterns was labour intensive and only the French elite could afford such luxury. But Joseph-Marie Jacquard's new loom automatically weaved specific patterns by reading metallic punch cards. This decreased both production time and labour costs. Soon the Jacquard fabric was available for the less wealthy – although it kept a bit of its royal status.
African Jacquard was created by Christine Daron in 2014.
This is her story: "It has been a life long process! When I go back to my childhood, my memories which come to mind: I remember my grandmother sewing old and new fabric together, to give a second life to the old French "Toiles de Jouy" to make bedspreads, which I loved. I spent 11 years in Gabon, spending as much time as I could at the market to source fabric and furniture for my home in Port-Gentil. In 1997, our family moved to South Africa, where my husband and I started a procurement business with our partner Arnaud Dabancourt, Tristan Export (Pty) Ltd.  One day, in 2000, I received a call from our main customer in Angola, asking me to send couches and beds for the expat houses in Lobito. I had never done Interior Design, but I did it, as if it was for myself, with my love and passion I created a lovely homely house for their staff who dedicated their time and efforts to the oil industry. It was a success! That is how for the next 12 years, I headed up the Interior Design department of Tristan Export, responsible for decorating hotels, houses and offices throughout Africa, Angola, Gabon, Congo, Tanzania, DRC, Mozambique to name but a few countries. In 2005, I was in the South West of France with my sister, and she wanted to show me a French textile factory weaving Jacquard tea towels and table cloths, such beautiful products and so full of color, I instantly fell in love! One of the main points which captured my mind was that "Moutet Tissage" customizes tea towels. I kept this point in a corner of my mind, as I had the idea of customizing designs for Angola, Gabon and Congo, countries which I used to travel to a lot. I knew all the sites and places that expats living in these countries loved and that they would like to remember forever, so I created 3 designs per country and had them woven and made in France at Moutet. It was an immediate success, but my dream was to go further and to weave in Africa. This is the true beginning of African Jacquard."